Morris Darbo Jr.
Founder/Supporter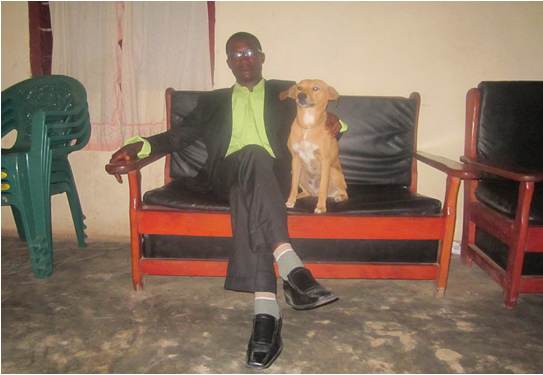 Morris Darbo is the founder and supporter of the Liberia Animal Welfare and Conservation Society. He is a Human and Animal right activist. Morris lives in Voinjama City, Lofa County. He loves and is involved in all aspects of education, and spent a few years training trainers in the Adult Literacy Teaching. He has now established Animal Kindness Clubs in 10 schools in Lofa County. He also identified and trained 30 students from various schools as Animal Ambassadors. Morris is now the Liberian Coordinator for Doggone Safe and contact person for Pan African Animal Welfare Alliance (PAAWA) for Liberia. He also worked with children`s organizations as a teacher and as well as a social worker, and is committed to making positive change in the lives of people, especially women and children. Morris believes that education is the key to changing people behavior and attitudes toward animals. He continues to show the link between violence to humans and violence to animals.
Executive Director
Liberia Animal Welfare & Conservation Society
Brief Historical Background
Efforts aimed at creating an Animal Welfare and Conservation Society in Liberia started in 2000 when the founder Mr. Morris Darbo and some concerned animal lovers at the local community level began to campaign against the lack of care for domestic animals. It was observed at that time the number of stray dogs in the streets had increased at an alarming rate, with most Liberians referring to the dogs as "CITIZENS". It was also observed at that time the wildlife were over harvested due to the bush meat trade as an important source of meat protein and income to local and national economies and their habitat was destroyed due to logging. The campaign methodology to address the stray dogs` situations consisted of outreach visits to a number of pet owners and residents in Monrovia and other parts of the country. The campaign methodology also extended in various communities educating local community people about the importance of wildlife and the forests to the country. These efforts set into motion, the process that led to the establishment of the Liberia Animal Welfare and Conservation Society (LACWS) in late 2001. The Society was subsequently registered and accredited under the laws of Liberia as a non-governmental organization in 2004. It is now the only local animal welfare organization in the Republic of Liberia.
However, the concept of animal welfare in Liberia is still a new phenomenon. Over the years, animals were generally viewed as existing only for human needs and were treated with extreme cruelty. LAWCS was therefore considered a revolutionary initiative, which brought to the fore the need to provide care and protection for all kinds of animals, domestic, farm and wildlife and to protect their habitat.
Objectives
The primary objectives of LAWS are as follows:
To prevent cruelty to animals;
To relieve animals suffering;
To promote the protection of animals;
To sensitize the public about the need to encourage respect for animals;
To sensitize the public about the conservation of all natures;
To create a bond between animals and humans;
To awaken interest and compassion for animals;
To engage in agricultural activities that promote animal welfare policies;
To serve as a forum for the exchange of ideas and experiences related to animals and conservation;
To spread knowledge concerning working animals, companion animals, wildlife and the environment among local communities;
To undertake activities that directly contribute to habitat protection, and conservation for a better environment for all animals and humans;
To promote the Universal Declaration of the welfare of Animals Rights;
To engage in any and all activities that a Non-For-Profit corporation is authorized to undertake in keeping with the laws of the Republic of Liberia.
To promote vegetarianism in schools and communities.
Organization Structure
The organization is governed by the Board Of Directors/Advisors headed by the President or the Chairperson. The daily affairs of the society are run by a secretariat headed by the Coordinator. LAWCS has a core of volunteers who serve as social animal workers in charge of outreach activities. Membership of the society comprises of Liberian farmers, pet owners and all the people who love animals and recognize the inseparable and interdependent existence of animals and humankind.
Funding
Funding for LAWCS activities is raised chiefly through self-help initiatives. On occasionally, LAWCS conducts low-cost vaccination services in communities with a high concentration on domestic and farm animals. LAWCS is a member organization of various international animal welfare organizations including: World Society for the Protection of Animals (WSPA), International Medical Care Foundation (IMCF), World Animals Net (WAN), and Doggone Safe Canada. LAWCS is constantly looking for national and international partners to help promote the welfare of animals and a safety environment for animals and humans in all parts of Liberia. Your support will help make a difference in the animal sector in Liberia.
Programs
Programs of the society are still in their evolutionary stages. Thus far, six major program areas have been identified for development. These include:
CAMPAIGN OR ADVOCACY PROGRAM
-Campaign against wildlife crime
-Enactment of animal welfare laws
-Campaign against in humane treatment
-Slaughter house inspection
-Registration of domestic animals
-Inspection of animal experimentation facilities
ANIMAL SANCTUARY OR ZOO PROGRAM
-Survey of abandoned and stray animals
-Encampment of rescued animals
-Land acquisition for regional animal centers
-Feeding and veterinary care
-Animal adaptation
-Public or school visitation
-Animal welfare training
HUMANE EDUCATION PROGRAM
-School of veterinary studies
-Publication of animal welfare journal
-Public awareness of responsible pets ownership
-Dog bite prevention education in schools and communities
-Establishment of animal kindness clubs in schools
-Publication of animal welfare messages on billboards or signboards
-Radio or Television talk-show about animal welfare
-National animal welfare conferences
-Conservation education
-Vegetarian education in schools and communities
STAFF TRAINING PROGRAM
-Veterinary treatment workshop
-Animal program development workshop
-Zoo management workshop
-Animal Laws workshop
-Animal natural disaster workshop
-Wildlife conservation workshop
VETERINARY SERVICES PROGRAM
-Regular vaccination
-Animal medical care
-Purchase and supply of animal medicines
-Spay and Neuter
-Mobile animal clinics
-Animal food supply
ANIMAL NATURAL DISASTER PROGRAM
-Emergency response to bush fire
-Rescue of marine life from flood