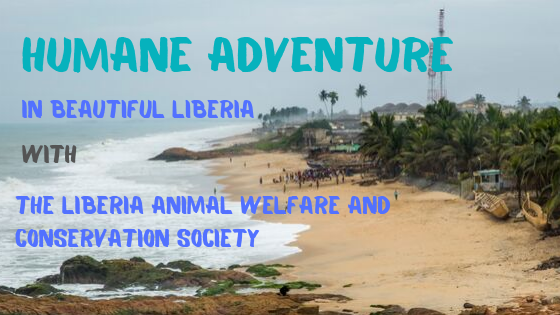 Are you looking for a place to spend your vacation or volunteer in animal protection and conservation activities? Liberia is an ideal place to visit and explore natural sites and wildlife and to volunteer your time in animal protection and conservation activities. The Liberia Animal Welfare & Conservation Society (LAWCS) offers a unique program called HUMANE ADVENTURE.
The HUMANE ADVENTURE provides tourists and volunteers with the opportunity to visit and enjoy several nature reserves, wildlife, natural sites, and the 16 diverse cultures of Liberia, while at the same time engaging in animal protection and conservation activities. As an animal
welfare organization, we do not participate in tours that involve exploiting and abusing animals, people, or the environment; we are dedicated to animal-friendly tours. The HUMANE ADVENTURE provides the following options for participants to choose from:
Humane Education program in schools and communities
Hands-on veterinary program
Video shooting and fundraising initiative for LAWCS
Tour to Wonegizi Protected Area
Tour to Gola Forest Nature Reserve
Tour to Sapo National Park
Tour to Lake Piso Multipurpose Nature Reserve
Tour to East Nimba Nature Reserve
Tour to Libassa Wildlife Sanctuary
Tour to Chimpanzee Island in Marshall
Tour to Kpatawee Waterfall
City Tour in Monrovia
LAWCS can also provide assistance with:
 Organizing cultural performances
 Liberia Visa facilitation
 Hotel Booking
 Airport Pick-up and Drop-off
About Liberia
Liberia is a small, beautiful country located in West Africa along the Atlantic Ocean with a population of 4 million people. The people of Liberia are very hospitable and helpful. Liberia is a rainforest country and home to a diversity of wildlife. It is a unique place to spend your holidays to enjoy the beauty of nature and at the same time helping to protect all animals.
Contact:
Lawcs001@gmail.com or +231775136556