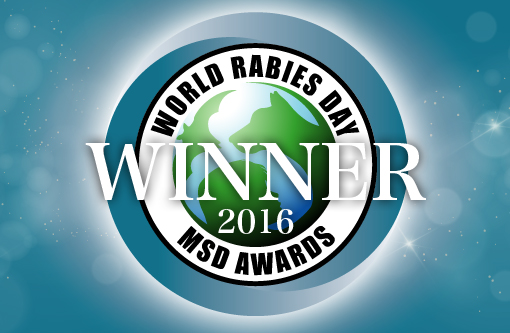 The Liberia Animal Welfare and Conservation Society (LAWCS) is proud to announce that it has been awarded the World Rabies Day MSD Award for Sub-Saharan Africa. This award recognizes outstanding achievement  in the field of rabies prevention. The judging panel included individuals from the CDC, FAO, OIE, WHO, MSD and GARC, and MSD Animal Health.
LAWCS volunteers, under the guidance of founder Morris Darbo, have educated tens of thousands of children about safety around dogs using the Be a Tree program provided by the Canadian company Doggone Crazy. The president of Doggone Crazy, Joan Orr, said "Morris and his team are truly deserving of this award. Their selfless dedication to the protection of animals and children over the years, under very difficult conditions, is inspiring and humbling. It is wonderful to see them getting this respect and recognition on the world stage from leaders in world health promotion."
LAWCS continues to provide basic animal health services to hundreds of pets yearly to improve their welfare and reduce the transmission of diseases including rabies. When the Ebola crisis hit, LAWCS changed gears and began providing bleach, soap, buckets and Ebola prevention education to remote communities accessible only by foot and motorbike. LAWCS also educates the community on compassionate animal care and treatment, and campaigns against eating the meat of dogs and other animals. With the help of the organization A Well Fed World, Morris and his team have provided nutritious vegetable based foods for hundreds of people and have initiated the planting of local gardens so this can be sustained.
If you'd like to support LAWCS in this important work, you can be sure that 100% of your donation goes directly to community programs. Please donate using the button at the top of the right hand column in this blog.