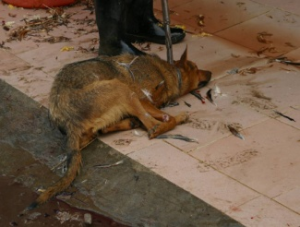 Liberia is home to over millions of companion animals. Animal Welfare in Liberia is an important issue though usually overshadowed by other issues deemed as of more priority toward the development of post war Liberia. Animal Welfare in Liberia is a major challenge; cruelty to animals is very rampant. 80% of Liberians raise pets. 75% of the numbers eat pets. The process use in killing these pets is un-ethical and inhumane. Dogs and cats are kill through beating and strangling. These acts are very rampant in all parts of the country.
One major obstacle to animal welfare in Liberia is lack of awareness education to discourage people from eating pets, lack of supportive legislations. The Liberia Animal Welfare Society is currently using educational program to discourage people from eating pets. LAWS is always calling the compassions of people and encouraging people to give up eating cat and dog meat voluntarily. However, we don't believe eating the meat of cats and dogs can be totally eradicated automatically. But, we believe that encouraging people to say No to cat and dog meat is an influential animal protection campaign that will gradually ends dog and cat eating.
Key messages:
-Dogs and cats are the best friends and helpers of human being, they should not be seen as food or fur.
-Eating dog and cat won't bring any extra benefit to your health, instead there is potential threat to health.
-Dogs and cats can't be farmed or slaughtered humanely for food. Eating dogs and cats means cruelty to these animals.
-Everyone can help to improve the living condition of dog and cat.
-Dogs and cats are not livestock; they are pet and companion animals. That means, they are man's best friends.
-Eating dog and cat meat seriously hurts the image of the country.
-Dogs have emotions like human beings.
-Say No to dog and cat meat.
-If you have compassion for dogs and cats, help spread the message.

LAWS will carry on this campaign in schools and communities through community

sensitization, distribution of leaflets with the messages, radio talk-show with community radio stations in all the local dialect in Lofa County, planting of sign boards in various communities with the message. This campaign is expected to last for two months from October 1 to December 31, 2011.
In order to produce 1000 leaflets, purchase sensitization materials like megaphone, banners, carry on the education in 20 schools in Lofa county, hold media talk-show within the seven districts and produce seven sign boards with the message for the seven district capital cities, LAWS needs to raise USD 5,000.00 to implement the program..
LAWS is now asking other animal welfare organizations and animal lovers to help raise this fund in order to help end pet eating in Liberia.
We also accept donation through our website – click on the Donation button to the left. Or you can contact us through our email address for our bank account information on lawslofa001@yahoo.com
We hope to hearing from any group or individual.
Thanks,
Morris Darbo
Coordinator
+2316844236