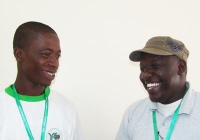 The Liberia Animal Welfare Society, (LAWS) is a non-governmental, non-religious animal welfare organisation established in 2001. It was legally registered and accredited with the government of the Republic of Liberia in 2004. LAWS is presently the only animal welfare organisation that is established and recognised in the country.
The overall aim of LAWS is to promote the conservation of nature by seeking the well being of all animals, thus fostering the ideals of the animal welfare movement in Liberia.
Animal welfare in Liberia is an important issue though usually belittled by other issues deemed as of more priority toward the development of post war Liberia. Animal welfare in Liberia is still a major challenge; cruelty to animals is still rampant. One major obstacle to animal welfare in Liberia is lack of humane education program, lack of resources to reach to larger communities, lack of train animal advocates and lack of supportive legislation.
Liberia Animal Welfare Society as a local animal welfare organisation in Liberia has been involved in promoting animal welfare in some communities in country through humane education program in few schools, veterinary services, campaigning against cruelty to animals.
Some of the achievements in 2010 by the Liberia Animal Welfare Society are as follows:
v 1450 dogs were vaccinated against rabies
v 353 cats were also vaccinated against rabies
v 2109 sheep were vaccinated with PPR vaccine
v 1516 goats were vaccinated with PPR vaccine
v 116 cows were given dewormer
v 112 pigs were also given dewormer
v 4 wild birds were rescued and reintegrated back in the bush
v Animal Kindness Club (Humane Education) were established in four schools in Voinjama City with 600 students
v 1500 pet owners were trained in humane education program
v 20 Community Animal Health Workers were trained in basic veterinary care and humane program
v 10 radio Talk-Shows were held with three community radio stations on the promotion of animal welfare in Liberia
v World Rabies Day was celebrated by the organisation in Liberia
v World Animal Day was also celebrated in Liberia
v Vegetable gardens were established in four schools with the aim of promoting vegetarianism among students
v A two weeks comprehensive survey was done in 10 towns in Lofa County, Liberia with 560 farmers to ascertain the causes of deforestation, reduction in the population of chimpanzees and monkeys in Lofa County
Veterinary Service Program
The veterinary services in one of the main programs run by the Liberia Animal Welfare Society. The animal sector in Liberia is one of the main sources of income for 80% of the rural farmers. The farmers raise various animals including sheep, goats, chicken, dock, pig and cow for marketing. They depend on the animals for income but the animals are not properly care for. Every year, at certain part of the season, 1/3 of these animals can die due to various diseases. The country lacks trained vets and veterinary facilities.
With the presence of LAWS in Lofa County, 5660 various animals received veterinary services in 2010. Before the presence of LAWS in the county, there was always a report of rabies. Since 2010, the issue of rabies in the county has totally reduced. In most rural communities in Liberia, dogs and cats are considered as part of the family. The people and their pets sleep in the same house. The act is normal and acceptable in the culture of the people, so providing veterinary services to those pets help to reduce the spread of zoonotic diseases.
Humane Education Program
Humane Education Program is very important in promoting animal welfare. It helps to create a link between animals and humans. LAWS is using its humane education program to create awareness and encourage people to end cruelty to animals. This program will create students and other community members interest in veterinary science. It will encourage students to study the course after completing their high school and work in the interest of animals. In 2010, LAWS established this program in four schools in Voinjama City with the aim of creating students interest and love for animals. The program focused on the following topics:
a. Understanding the basic needs of pets
b. Recognizing the body language and facial expressions of dogs and cats
c. The important of good diets and how to prepare diets for pets
d. Recognizing common diseases in pets and how to treat them
e. The prevention of animals (dog) bite
f. The important of pets to human life and the environment
g. Housing facilities for dogs and cats
These were done through notes presentation, drawing, story telling, questionnaires, sharing of experiences, etc
In 2010, 600 students and 1500 pet owners were trained in humane education.
Campaign or Advocacy Program
In 2010, LAWS used the World Animal Day celebration to campaign to local government to recognize the welfare of animals as of more priority. The day was celebrated with a street parade in Voinjama City calling on the government to include the welfare of animals in our social and health welfare policy. Over 1000 students, pet owners and other community members took part in the parade. 10 radio Talk-Shows were held in 2010 campaigning against cruelty to animals. The talk-shows also encouraged people to stop eating pets. LAWS also celebrated the World Rabies Day in Vezela Town. 450 dogs and 50 cats were vaccinated against rabies. LAWS used the day to campaign against cruelty to animals. An indoor program was held. Lot of activities were done such as dramas focussing on: consider animal in development, treat our animals with respect, my dog is my relative, my dog and myself depend on one another, and etc
Constraints Faced by LAWCS
v Lack of train vets to handle some of the cases face in the communities with animals
v Lack of veterinary medicines
v Lack of mobility to visit more communities
v Lack of resources to construct and establish a veterinary clinic in Lofa County
v Lack of fund to establish the programs in other towns and schools
Recommendations/Requests
v LAWS is looking for assistance from other organisations to help train some of its volunteers
v LAWS is asking other organisations to help in any way that can promote the welfare of animals in Liberia
v LAWS needs veterinary medicines to help provide treatment to animals
v LAWS believes that promoting humane education program in more schools and communities will help reduce cruelty to animals, so LAWS is looking for support in order to continue this program in more schools and communities
v LAWS is looking for financial assistance in order to construct a veterinary clinic in Lofa County
Appreciation
LAWS achieved much in 2010. The achievements would not have been possible without the support of some organisations and individuals. We therefore want to extend our thanks and appreciation to all those listed below for their financial, materials, veterinary medicines and technical assistance:
1. Veterinarians Without Borders, USA
2. World Animals Net, UK
3. Well Fed World, USA
4. Dr. George Nipah, Veterinary Epidemiology consultant- FAO/ CARI Liberia
5. Dr. Joseph Adongo Awuni, Veterinary Laboratory Expert, FAO/Fendell Liberia
6. Pet owners in Lofa County
7. Doggone Safe, USA
Expenses for 2010
Stationery: $300USD
Local Travel: $ 1,000USD
Celebrations: $ 600USD
Compensation to volunteers: $ 5,100USD
Vegetable gardens: $ 1,000USD
Office rent: $700USD
Workshops: $300USD
Grand Total: $ 9,000USD
This report was complied by: Mustpha L. McCarthy
Admin. Officer
Approved by: Morris Darbo
Coordinator
Liberia Animal Welfare Society
+2316844236