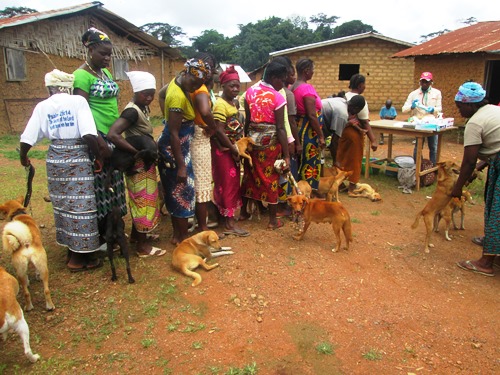 Liberia is a poor post war country in western Africa, with many problems including the recent Ebola crisis that killed over 4,000 people, high illiteracy rate, lack of electricity, high unemployment rate, and other problems that don't involve animals or their welfare. The problems with animals, however, do exist.
People have dogs and don't know how to care for them, keeping them in horrendous conditions that are far below what is considered humane. Dogs are left to roam around in search of food, eating leftover food on the ground exposing them to diseases and parasites. Most people provide no veterinary care or treatment when their dogs are sick or injured. Some people also eat dog meat.
In order to help these lovely companion animals in a population that abuses them, we educate their owners and work with their owners to improve the human-animal relationship. That`s exactly what LAWCS does. LAWCS provides responsible dog ownership education for dog owners, runs an anti-dog meat eating campaign, provides free veterinary care and treatment. LAWCS also provides a community outreach feeding program to give a healthy alternative to eating the meat of dogs and other .
We believe that cruelty to animals is often caused unintentionally, but animals suffer as a result of lack of knowledge and information. That is why we put so much emphasis on education and information about animals along with practical care and assistance for animals. To love animals also means to know them well.
Please consider making a small donation to help our work in Liberia. All funds go directly towards our programs.