Duration: March to May 22, 2015
Report Date: May 26, 2015
Summary report on the activity implementation
Liberia is one of the countries in the world where little or no information is given to children about dog body language and bite prevention.
Children are being attacked by dogs due to lack of knowledge about dog safety and dog behavior; and for every child that is attacked; it is the dog that pays the ultimate price when euthanized. Before the establishment of the dog bite prevention program in Lofa County, Liberia by the Liberia Animal Welfare & Conservation Society in partnership with Doggone Safe Canada, the dog bite incidence in Lofa County among the children was alarming, with community leaders authorizing the killing of community dogs as means of curtailing the rampant dog bite incidents. This method did not help to reduce the incidents among the children until 2011 when Doggone Safe started to empower LAWCS to educate the children about dog body language and bite prevention. Since then there has been drastic reduction in the number of dog bite incidents among children in communities visited by the program.
From March to May 22, 2015, LAWCS` volunteers visited 17 schools in Voinjama and Qurdu Gbondi districts and educated the school children among dog body language and bite prevention. The program motivated the children to respect dogs, and not to force dogs into situations whereby they feel the need to retaliate and protect themselves. The children also learned to recognize what their family and other dogs can be telling them through their body language and how to react appropriately, allowing the dogs to live stress-free and comfortable lives.
Below is the information on the number of children reached and inspired with the program.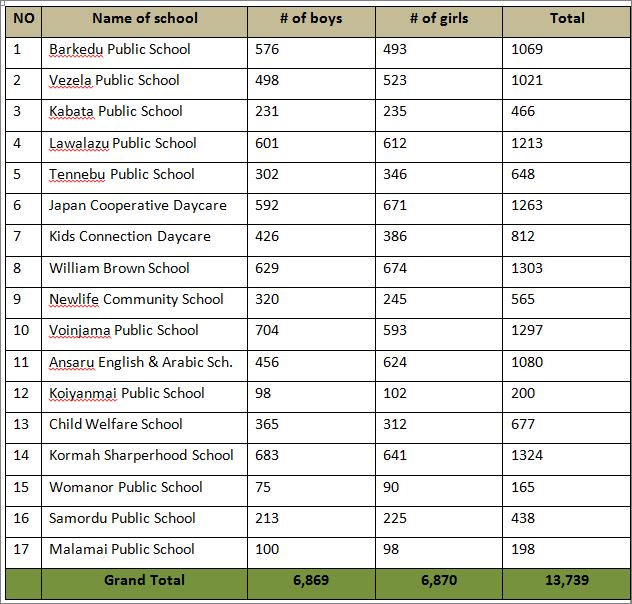 The management of LAWCS wishes to extend her profound gratitude to the management of Doggone Safe for empowering us to improve the relationship between the children and their family dogs through the bite prevention program. We also want to extend thanks and appreciation to all the school authorities for working with us in implementing the program in your schools.
Please help Morris and the team at LAWCS to continue their work to help children. Click here to donate