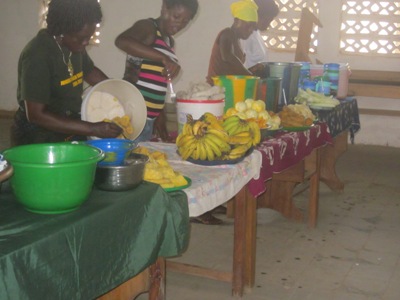 Donor: FARM`s Sabina Fund
Duration: November 1- 30, 2013.
Amount: USD 500.00
Date of Report: December 5, 2013
About LAWCS
Efforts aimed at creating an Animal Welfare and Conservation Society in Liberia started in 2000 when the founder, Mr. Morris Darbo and some concerned animal lovers at the local community level began to campaign against the lack of care for domestic animals. It was observed at that time the number of stray dogs in the streets had increased at an alarming rate, with most Liberians referring to the dogs as "CITIZENS". It was also observed at that time that wildlife were over harvested due to the bush meat trade as an important source of meat protein and income to local and national economies and their habitat was destroyed due to logging. The campaign methodology to address the stray dogs' situations consisted of outreach visits to a number of pet owners and residents in Monrovia and other parts of the country. The campaign methodology also extended in various communities educating local community people about the importance of wildlife and the forests to the country. These efforts set into motion, the process that led to the establishment of the Liberia Animal Welfare and Conservation Society (LAWCS) in late 2001. The society was subsequently registered and accredited under the laws of Liberia as a non-governmental organization in 2004.
LAWCS is a founding member of Pan African Animal Welfare Alliance (PAAWA) based in Nairobi, Kenya. LAWCS also has an affiliation with African Network for Animal Welfare (ANAW) based in Kenya, International Network for Humane Education (InterNICHE) based in UK, Doggone Safe Canada, Campaign Against Animal Cruelty- Sierra Leone, and Ghana Society for the Protection of Animal (GSPA).
MISSION STATEMENT:
To create a caring and socially responsible society where animals are treated as sentient beings Cell#:076160690 e-mail:lawslofa001@yahoo.com
Vision: A world where animals are treated with compassion and respect
Activity Report
The Liberia Animal Welfare and Conservation Society extends sincere thanks and appreciation to FARM`s Sabina Fund for funding the Vegan outreach program in Lofa County, Liberia. The program made tremendous impact in challenging the perception and attitudes of people toward animals and encouraged plant- based diet (veganism) as a means of living a compassionate lifestyle.
From young, we are taught how we are different from animals, rather than what we have in common with them. So most of us grow up accepting the idea that animals are to be exploited and used for our own ends. We deny that animals have their own feelings, emotions, individual personalities and family relationships, despite it being very evident that they do.
So a lot of what we do in our individual lives causes immense suffering for the creatures that share our planet. For the sake of a dish, a detergent, a handbag or a laugh, many animals are denied even their basic needs – to live, move, scratch, eat, drink, play, run, feel the sun or nurture their young. For human convenience, profit and enjoyment, they are imprisoned, chained, beaten, branded, scarred, electrocuted, starved, tortured, mutilated, castrated, knifed and shot.
LAWCS used the vegan outreach program to change the attitudes and behaviors of people toward animals and the environment. Veganism is really living with compassion, conscience and conviction. A part of living without cruelty encompasses not only what we eat, but how our food choices will affect other humans on the planet as well as the implications of the lives and deaths of food animals. Clearly, truly living without cruelty ultimately means vegan organic living, however all choices made to live with more compassion will benefit the animals as well as helping to save the planet and ultimately us.
A team from LAWCS was actively involved in creating awareness in various communities and schools in Voinjama District from November 1 to 30, 2013. The team met and inspired 110 community members in five communities. The team also visited 10 schools and interacted with 10,027 school children on the importance of vegan lifestyle through the humane education program. LAWCS` humane education is about fostering kindness, respect and empathy for animals, people and the environment and recognizing the interdependence of all living things. The aim of the project is to create a culture of empathy and caring by stimulating the moral development of individuals to form a compassionate, responsible and just society. It is a means of introducing individuals, especially children, to the reactions and emotions of animals, as well as linking this to an understanding of environmental issues and ecosystems.
At the end of the outreach program, LAWCS organized a vegan day and provided free vegan food. LAWCS also distributed literatures on the importance of vegan lifestyle. 10 participants (2 teachers and 8 students) from the following schools attended the event:
1. Voinjama Central Academy
2. Lawalazu Public School
3. Voinjama Public School
4. Kids Connection Daycare
5. Japan Daycare
6. Sharper hood School
7. Tennebu Public School
8. Selega Public School
9. NewLife Community School
10. Answaru Islamic School
We also had two persons from the following government institutions:
1. Ministry of Health and Social Welfare
2. Ministry of Education
3. Ministry of Agriculture
4. Environmental Protection Agency
5. Kintorma Community Radio Station
6. And 50 community members
The participants at the event appreciated LAWCS and the funding donor for undertaking this life saving and educative program. The representative from the Ministry of health asked LAWCS to extend the education program at the various hospitals and clinics so that patients can learn how to change their lifestyle.
All the speakers at the event encouraged LAWCS to continue with the program so that people`s perception, attitudes and behaviors toward animals can gradually change.
Through your support, LAWCS is anticipating the continuation of the project in other communities in Liberia.
Thanks,
Morris Darbo
Program Coordinator
Liberia Animal Welfare and Conservation Society www.liberiaanimalwelfaresociety.org
+231886844236