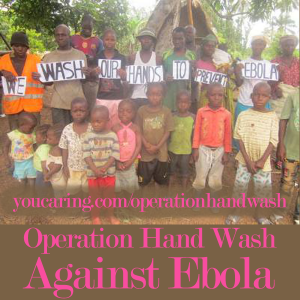 The people of Lofa County, Liberia and LAWCS' volunteers are very happy and want to extend thanks and appreciation to all those who donated or donating toward the fight against this deadly disease in our country. LAWCS' volunteers are very much happy that through your donations they are also contributing to the fight against Ebola in Liberia by volunteering their times and services to reach to remote communities neglected due to lack of roads or deplorable road condition. LAWCS believes that educating people to prevent the spread of the virus and providing them with those essential preventive materials is key and will greatly help in saving lots of lives in the country.
Click here to donate so that this education can continue in areas where other aid organizations are not able to go.
Today was another joyful day for the people LAWCS' volunteers met across a big river with no road leading there. The staff took the risk to cross the river with the bikes using local made canoe to reach three communities where there has been no awareness or the distribution of other essential preventive materials like buckets, soap and clora. LAWCS was the first organization to meet these communities since the outbreak of the disease in the country. The people including their children were very happy for this life saving gesture and extended their thanks to all those who donated their money to help them. The team created awareness with 563 people- women: 197; men: 162; children: 204. 18 buckets, soap and clora were distributed to the three towns.
These people drink directly from the river. They don't have well in their towns.
We want to tell all of our sympathizers, friends and supporters that your donations are making tremendous impact in reaching communities that are truly in need and we still want you to please join us in asking other friends to help. There are still lots of communities that need our help.
Please join us in saving lots of lives in Liberia. We can only do this with your support.
We also want to extend a big thank you to the family of Doggone Safe, most especially Joan Orr for your tireless efforts in raising funds to empower LAWCS to reach to remote communities at this bitter time in our history to provide these essential preventive materials and awareness.