By Morris Darbo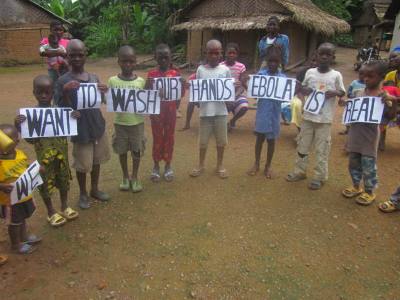 My area is the hardest hit area presently in the country. Over half of the death rate in Liberia is happening in Lofa County where I live. Lots of people have died in Lofa county due to Ebola and continue to die. Some friends that I personally knew have died with their entire families. Some children have become orphans due to the virus.
My family, our volunteers and their families and I are all well and following the preventive measures.
Awareness education is very cardinal and the provision of buckets, soap, sanitizers, chlorine and clora are highly needed in the villages.
We have been doing some awareness but need to do more in the villages where lots of organizations can't go due to the deplorable road condition.
If we can do that in the villages where we have been working, it will be a life saving approach. We can do this along with the rabies prevention program.
95% of the population in Lofa county live on subsistence farming. They live below 1 dollar per day. The government of Liberia said that washing of hands with clora, chlorine and water is very vital in preventing the virus. 65 percentage of the people live in remote communities that are not easily accessible to car. Few organizations have been distributing buckets and chlorine in communities where car can easily go. There has been no awareness and distribution of those items in the remote communities where car can not reach.
Due to the high poverty rate, people can not afford to buy those items for themselves. We want to reach to remote communities. Each bucket cost 10 USD, clora is 3 USD and soap is 0.45 USD. LAWCS has a bike to travel in those communities. Gas and engine oil will be needed. Meals for volunteers while on the field.
Please donate $2 to help us buy buckets, soap and bleach and to educate the poorest most marginalized people about basic sanitation and disinfection.