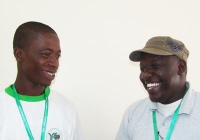 The Liberia Animal Welfare Society, (LAWS) is a non-governmental, non-religious animal welfare organisation established in 2001. It was legally registered and accredited with the government of the Republic of Liberia in 2004. LAWS is presently the only animal welfare organisation that is established and recognised in the country.
The overall aim of LAWS is to promote the conservation of nature by seeking the well being of all animals, thus fostering the ideals of the animal welfare movement in Liberia.
Animal welfare in Liberia is an important issue though usually belittled by other issues deemed as of more priority toward the development of post war Liberia. Animal welfare in Liberia is still a major challenge; cruelty to animals is still rampant. One major obstacle to animal welfare in Liberia is lack of humane education program, lack of resources to reach to larger communities, lack of train animal advocates and lack of supportive legislation.
Liberia Animal Welfare Society as a local animal welfare organisation in Liberia has been involved in promoting animal welfare in some communities in country through humane education program in few schools, veterinary services, campaigning against cruelty to animals.
Some of the achievements in 2010 by the Liberia Animal Welfare Society are as follows: